It was wonderful having Sydney baking and decorating with me this past week, however I admit saying goodbye has become harder as she visits more often. I began realizing our relationship will be a series of visits and goodbyes. She loves living in D.C. and will probably go to graduate school at George Washington University. I am happy to see her become a self assured adult able to live on her own, but I would be lying to myself if I didn't also admit each time she leaves I have this empty feeling (my heart hurts).
While she was here we were able to bake and design a plethora of pastries. One of the goodies was a vintage lace Easter basket designed from sugar cookies, in which we had a brilliant time laughing and talking while decorating the baskets. We started with a sketch of the design and began. The covering of the cookie is fondant, Sydney's favorite, and the accents are detailed with royal icing. Both Sydney and I adore the palate sensation of the soft fondant to firm royal icing. The fondant also keeps the cookie soft, a nice added benefit.
Royal Icing Recipe:
907 grams / 2-pounds icing sugar
247 grams/ 2/3-cup egg white
1-teaspoon lemon juice
1/2-teaspoon almond extract or flavoring of choice
Prepare your mise en place.
In the bowl of a  standing mixer, sift icing sugar twice, add lemon juice and egg whites.
Attach the bowl to the standing mixer, fitted with the paddle attachment, beat on the lowest speed for ten minutes to reach off-peak consistency. If the royal icing has not soften enough keep beating, on low, in 3 minute increments until off-peak consistency is achieved. Add the almond extract and beat, on low speed, for 30 to 60 seconds. Transfer to a container and cover with a damp cloth.
Both Sydney and I prefer egg white royal icing, both for taste and texture.
Meringue Powder Royal Icing Recipe:
907 grams/ 2 pounds icing sugar
80 grams/ 1/4 cup. plus 2 Tablespoons meringue powder, (NOT EGG WHITE POWDER)
236 grams/ 1-cup boiled water, cooled to warm
1/2 teaspoon lemon juice
2-teaspoon almond extract
Prepare your mise en place.
In the bowl of a standing mixer pour warm water whisk (by hand) to a soft peak consistency, sift icing sugar over the mixture, add lemon juice and almond extract. Beat on the lowest speed, with the paddle attachment to reach off-peak consistency. If the royal icing has not soften enough keep beating, on low, in 3 minute increments until off-peak consistency is achieved. Add the almond extract and beat, on low speed, for 30 to 60 seconds. Transfer to a container and cover with a damp cloth
Vintage Lace Sugar Cookies:
Equipment:
Basket sugar cookie cutter
Parchment Paper cones, between 6 to 10
PME # 1 tip/tube
PME tip #4
PME st 51 tip/tube
Mini egg cutter
Knife
Mini off-set spatula
Fondant rolling pin
Fondant smoothers
Pasta Machine, optional
Dampened paper towel
Either a PME holder or a damp paper towel folded to cover the parchment filled paper cone
Plastic art brush
Turkey trussing needle or pin
Materials:
Royal icing soft peak consistency
Royal icing bead consistency, Julia Usher
Fondant, we use half Cinnamon bun flavor and Mocha
Fondant, Wedding White, colored in assorted pastel flavors
Piping gel, clear
Cooled boiled water
Food paste, pink, brown, yellow, leaf green, and electric green
Edible glue, hand made or bought
Prepare your Mise en place.
To create the Vintage Lace Basket 
Knead the fondant mixture together, roll the fondant out and place in a pasta machine on #1. Cut the fondant with the basket cookie cutter, keep the basket center.
Turn you cookie to the backside, brush the handle and the rim of the basket with piping gel, attach the inset with the smooth side facing the basket, and smooth.
Turn the cookie upright and attach the basket fondant cut out with piping gel.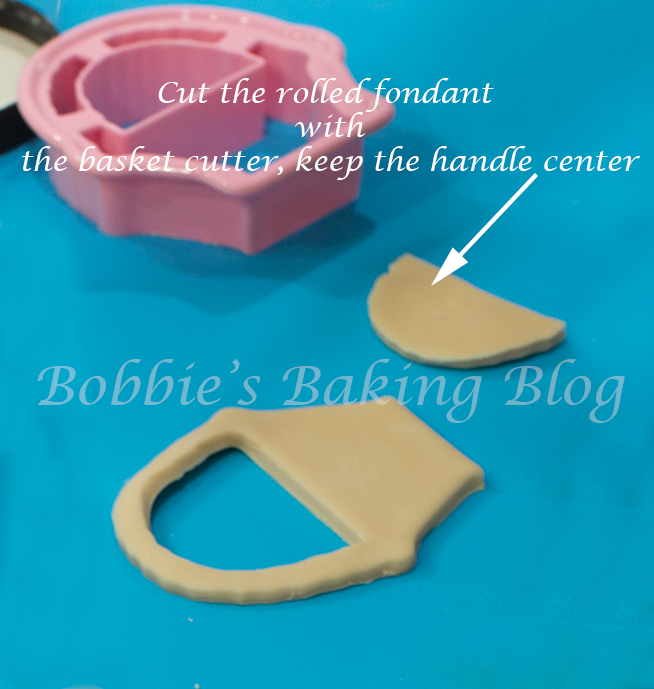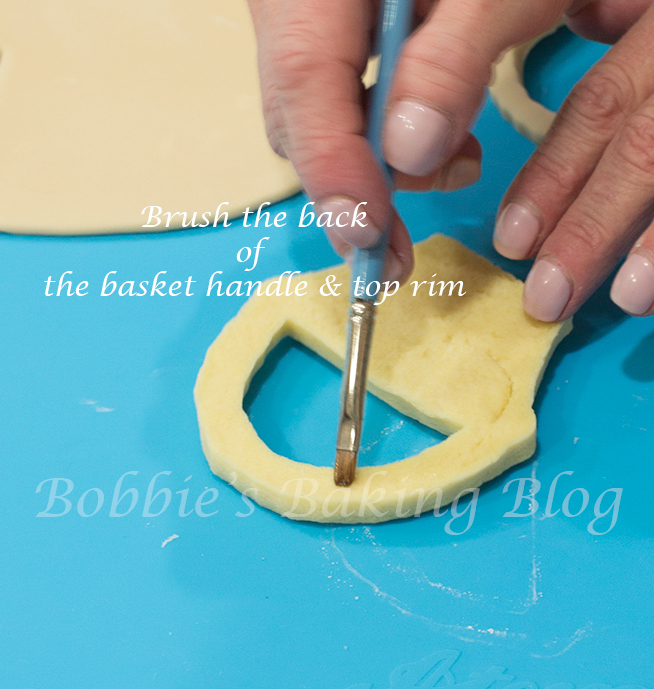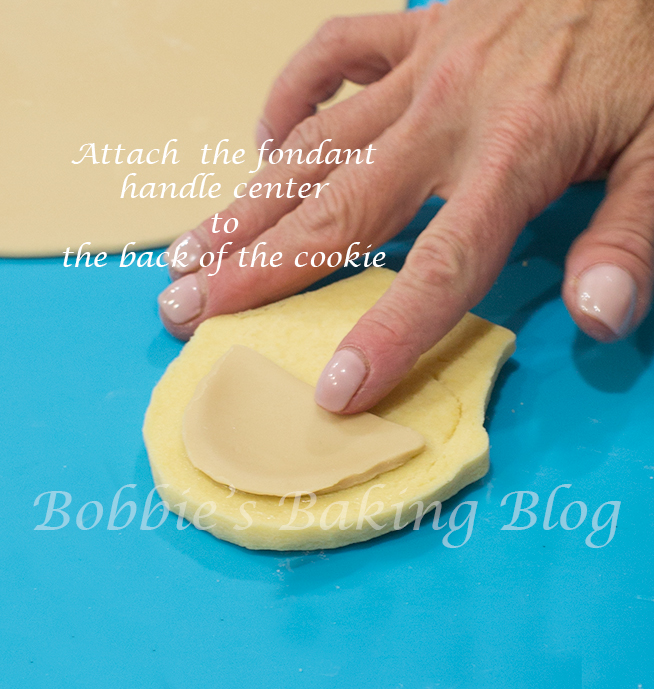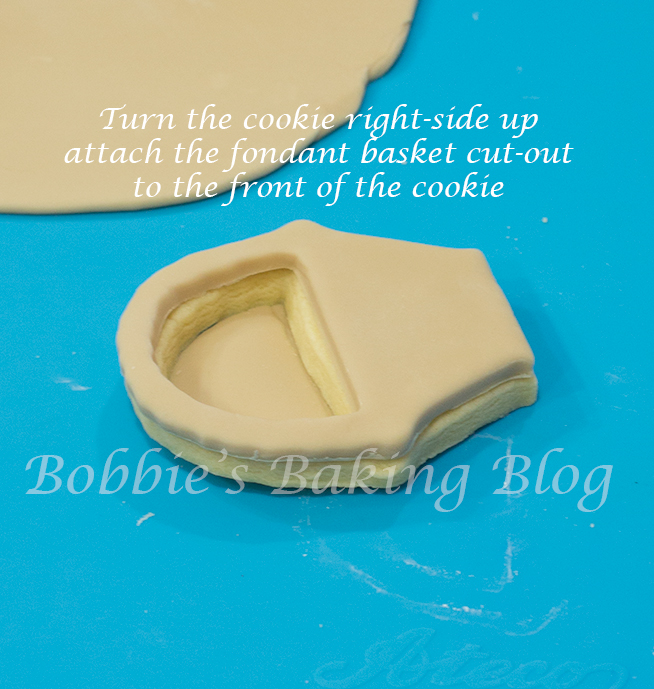 Piping the Royal Icing Lace Lines
Fit a parchment paper cone with a PME #1 tip/tube and fill the cone  1/2 way up with soft consistency royal icing, fold the top of cone over.
Check the consistency of the royal icing by piping a line between your fore-finger and second-finger gently wiggle your fingers, if the line does not break you are good to go.
Begin at the bottom of the basket piping horizontal lines, pipe the lines equal distance to the rim. Check your consistency again, if you are good to go pipe vertical lines the same distance as the horizontal lines.
(If your consistency has thicken cut the tip off rinse, pipe the royal icing into a bowl and add cooled boiled water by the drop until your royal icing is soft consistency. Redo another cornet/cone)
Filling the grids
Before you prepare your cornet/cone look at your cookie and decide on the pattern you want.
Create bead consistency royal icing, Julia Usher invented this. Place the bead consistency into a cornet/cone without a tip. Pipe the icing on a work surface if the icing pipes out into a round bead you're good to go.
I tend to wrap my parchment paper cone without an opening, if this is the case cut straight at the tip to create a small opening. Pipe a bead in the grids to copy your design.
When you have finished  piping the grids pipe decorative beads around your basket.
The lace process is time consuming, start with one basket at time and sit in a comfortable position to pipe.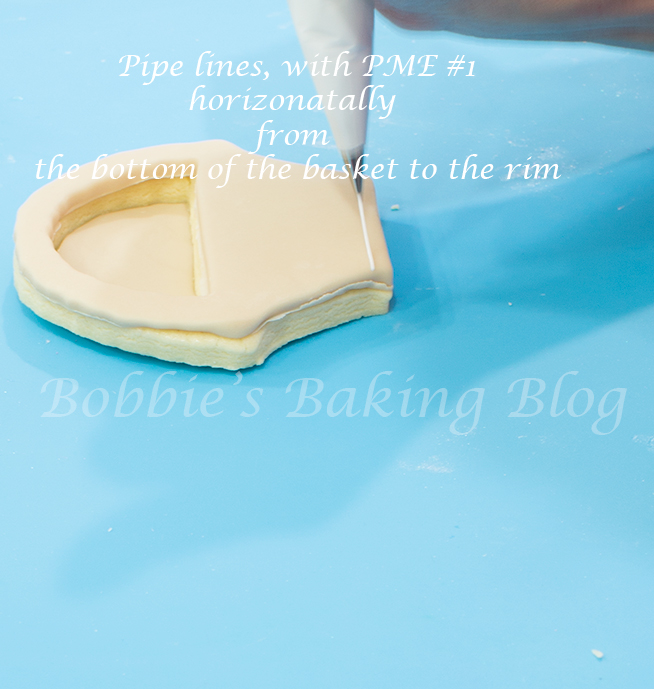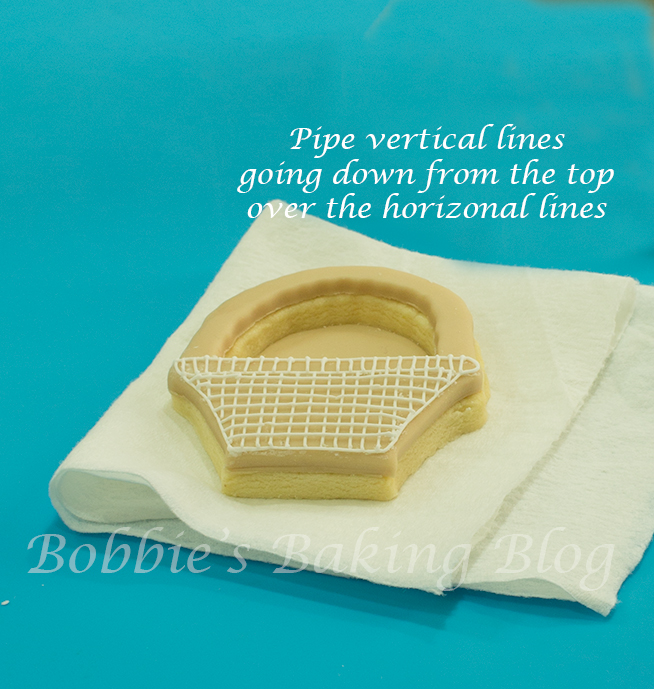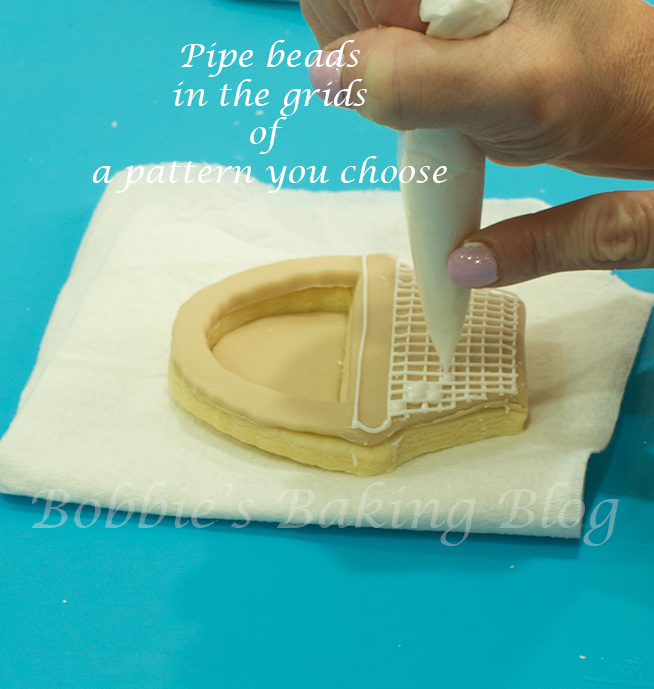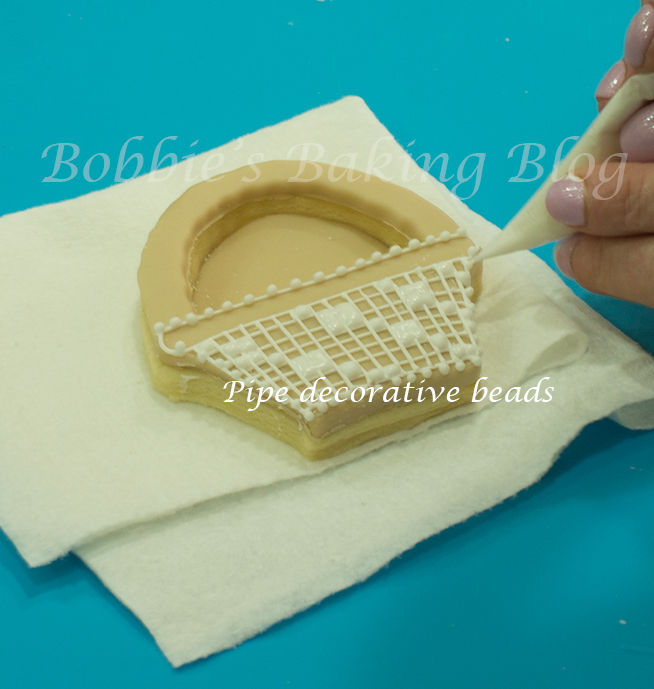 Filling The Basket with Eggs and The Rope Handle
Prepare your mise en place.
Fit a cone with a PME # 4 tip/tube and fill the basket with an ivory shade, off-peak consistency, royal icing. To achieve ivory add 1/4 drop brown, yellow, and pink food paste fold in with a rubber spatula (that has never been used with fat) until the icing turns ivory and add a 1/4 of a toothpick of piping gel, fold the piping gel until amalgamated. The piping gel will add a shine to the royal icing and allow to pipe longer before drying out.
A rope is just a series of piping of reverse "S" and one "C" shapes to start. Pipe a "S", holding the cone at a 45 degree angle on the the top and the bottom of the handle. If your "S" shapes are slightly off use a turkey trussing needle to gently more it into shape.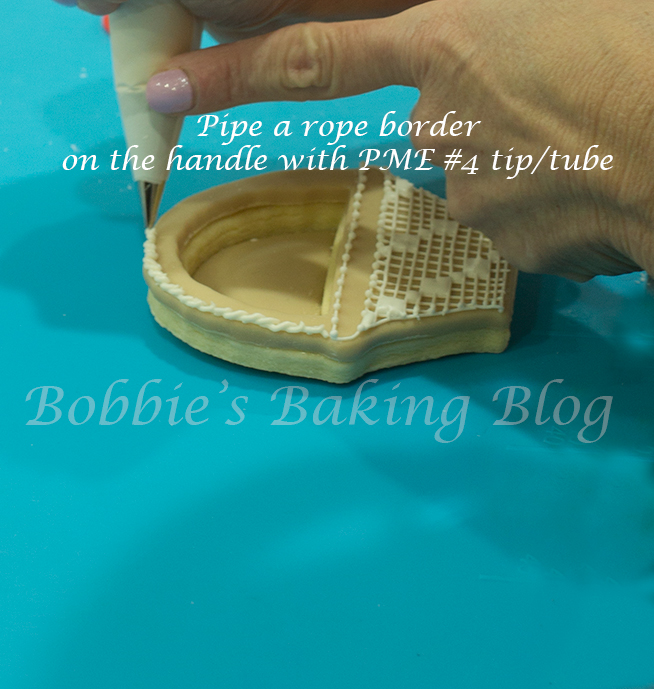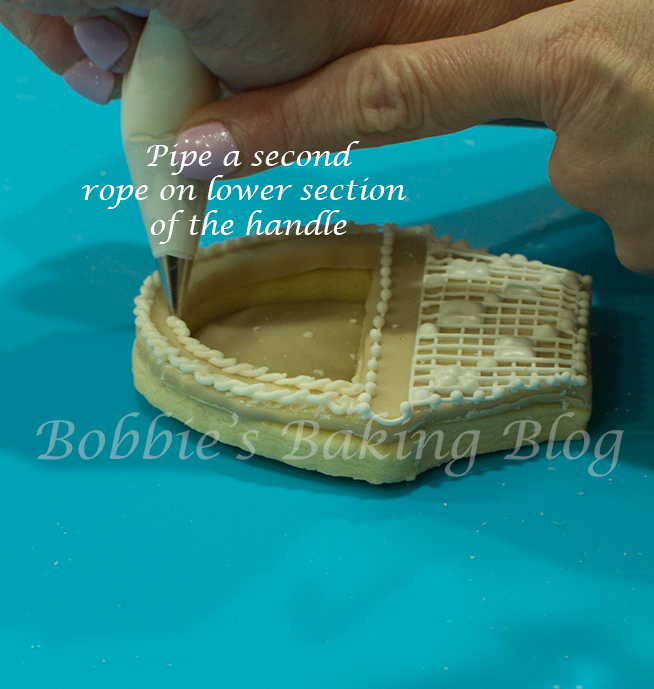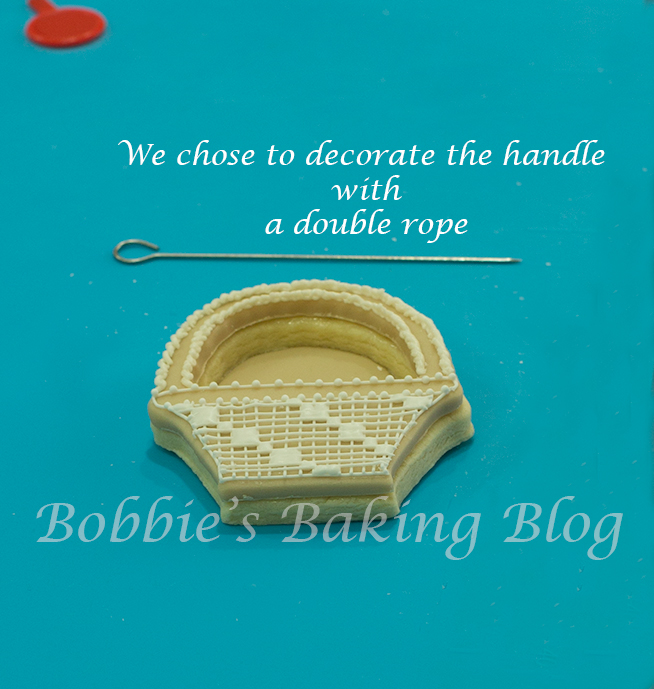 The Eggs
We colored (in pastel yellow, pink, & purple) wrapped, and placed our fondant in plastic bags prior to beginning the project. Knead your colored fondant,  roll the fondant, one color at a time, place in a pasta machine to roll out to a number#2 thickness. (If you do not have a pasta machine the fondant maybe rolled by hand). Cut about 18 to 21 eggs of each color, it takes about 12 eggs to fill the basket. Once the fondant is rolled to desired thickness use the mini egg cutter to cut the eggs out. Cut the eggs 2/3 from the top, before glue the eggs down arrange the eggs to your liking, remove them and use edible glue to the back of  each egg (work with one egg at a time). Starting under the handle glue each egg down, layering them towards the inside rim of the basket. The idea is for the eggs to give the illusion they are in the basket.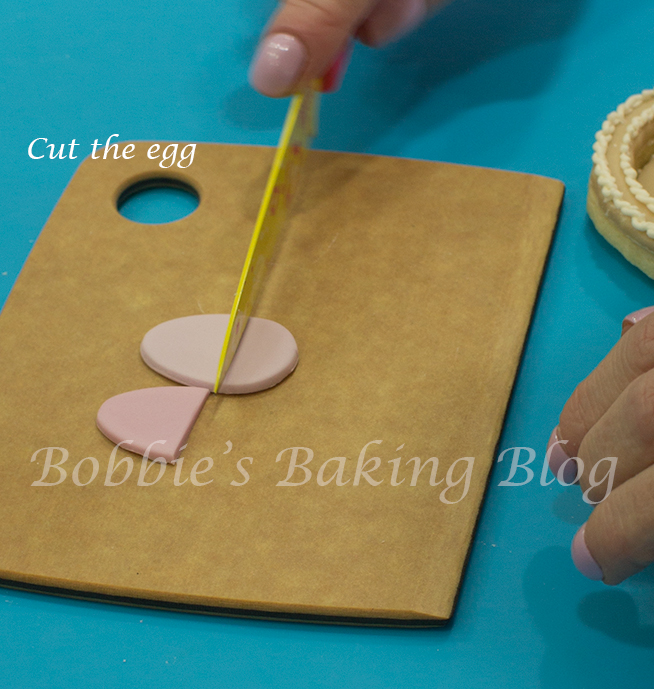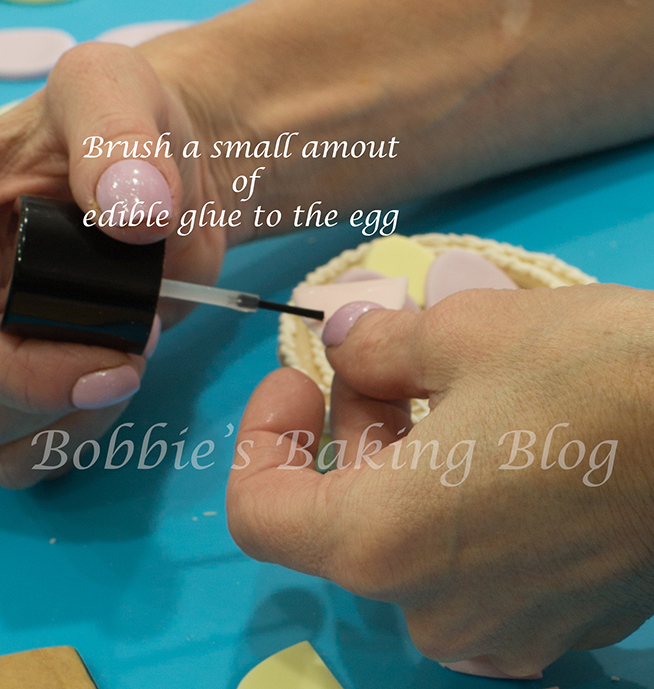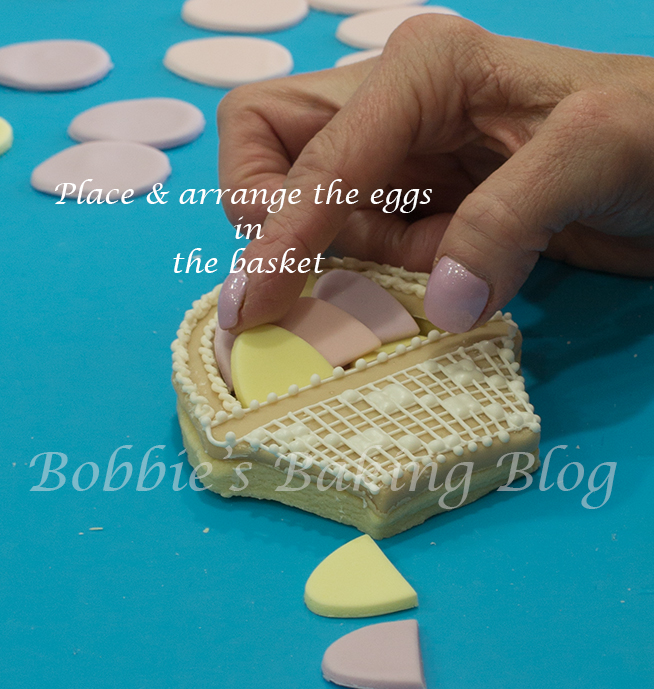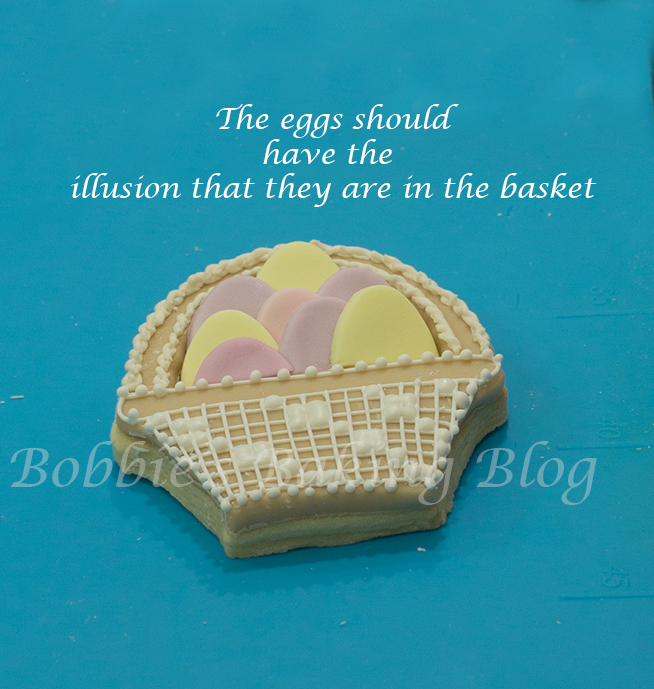 Finishing Touches
We chose a to create a small fondant bows at the top of each basket handle. I have not included a tutorial on fondant small bows, due to length and techniques of this. I will be posting a small fondant bow tutorial soon.
Pipe leaves over laying the rim seemed appropriate and quite easy. Fit a cone with a PME tip st 51 leaf tip, fill the paper cone 1/2 way with off-peak spring green royal icing. To achieve the spring green color add 1/4 of tooth pick electric green food paste and 1/4 of a tooth pick green food paste fold the color until amalgamated, add 1/4th of tooth pick of piping gel fold again. Fold the cone closed. Pipe a leaf on your work station if you can pipe the leaf without squeezing so hard that you have given yourself a hernia, you are good to go.
Holding the tip parallel to the rim of the basket, squeezing firmly, stop pressure when the leaf is triangular, and then decreasing pressure as you draw the tip away from the base to form your first leaf. Continue this process until you reach the opposite end of the rim. To achieve the same size leaves use exact amount of pressure on each leaf.
If you need to move any of the leaves slightly use your turkey trussing needle.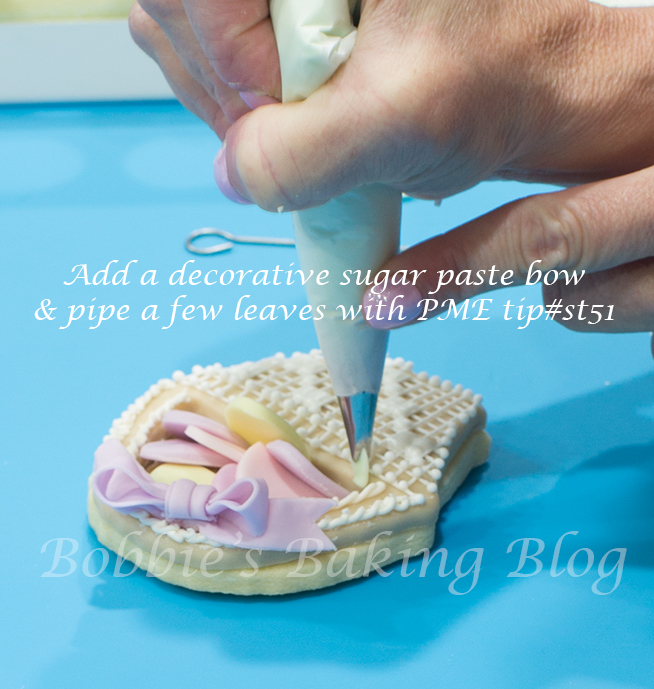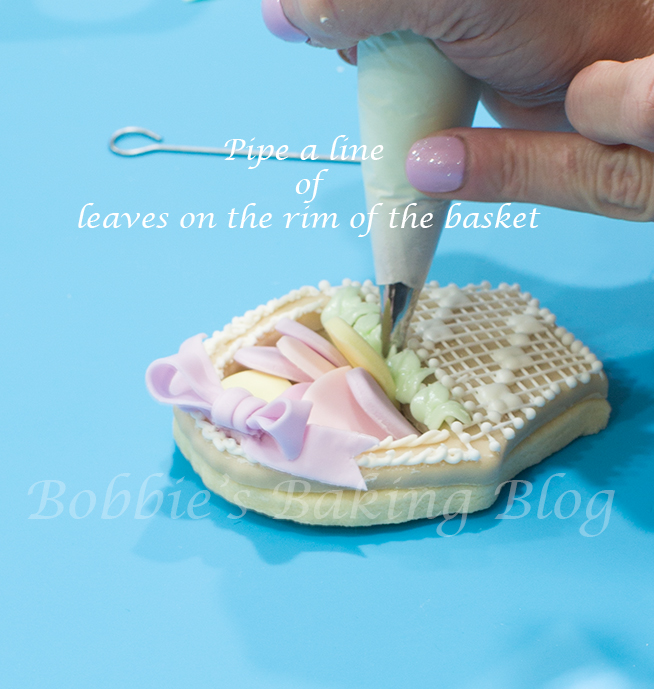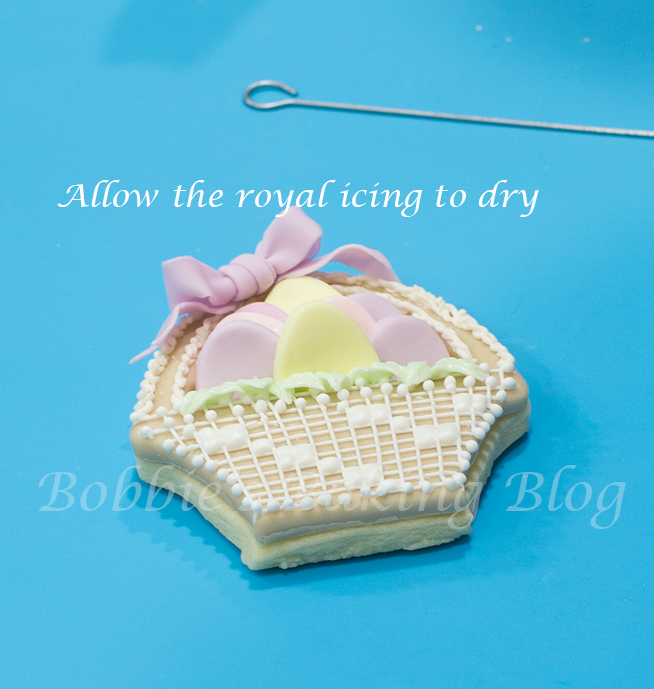 The lace part of the basket might be frustrating for a child, but they certainly would have fun cutting the egg from the fondant and placing them in the baskets.
Sydney has been decorating sugar cookies since she was small, teaching your children a fun passion can forge an unbreakable bond. I know Sydney and I have some of our most intimate talks when we are decorating cookies, cupcakes, and cakes.
Enjoy!