The month of October is dedicated to breast cancer awareness and most states, cities, and towns decorate the highways, buildings, and universities in calming pink ribbons, but breast cancer is the furthest thing from calming. We as a caring society need to do whatever it takes to assure the women in our lives have a mammography; one of my closest friends, AL, saved her own life by her persistence to have a mammography, at age 32, after finding a lump. I remember the day AL was given the horrifying news that her test was positive. (Medical tests are the only tests where positive is bad news). I had AL's little girls while AL and her husband met with the oncologist. Around 9:00 pm AL called to inform me, scared and in shock, she had breast cancer. The next day AL had decided she would take the most radical treatment, she wanted to be able to raise her girls. That year I watched her have a double mastectomy, chemotherapy, radiation therapy, and daily injections of vitamin B.
I would bring her girls home with Sydney and myself, give them dinner, and drive them to their home. On one occasion AL met me at my car and asked if I would shave her head, as she grabbed a palmful of hair just by brushing her hand through her scalp, AL was so brave. I can still see us in her home shaving her head, my hands were shaking, but AL was steady and courageous, also the most beautiful bald woman I have ever seen! That year she lost so much, but in an odd way gained a plethora of wisdom. She gained her life, found a resolve she never knew she had, and to this day is watching her girls grow into womanhood. I am happy to report she is considered cancer free!
I realize breast cancer causes some to fell uncomfortable talking about it, but early detection saves lives! Each year Sydney and I bake and give away treats for awareness, this year we designed ribbon sugar cookies and I dedicate them to AL's bravery and continual dignity.
Ribbons of Hope:
Equipment:
Paper cones, icing dispenser pen, or disposable pipping bag
#2 Pme piping tube/tip
#1.5 PME tube/tip
Bowls
Small rubber spatulas
Toothpicks
Material:
Prepare your mise en place.
Sydney was adamant the pink ribbons look like the ones placed around the city, we mixed two monochromatic pink colors, using a photo taken by us of a ribbon we saw, the outline and beading were two shades darker than the inside of the ribbon. Four drops of rose pink for the dark colorant amalgamated in one bowl, and two drops of of rose colorant amalgamated in another bowl. We find it is best to mix the colors as you work with them. Place the colored icing in a cone or a disposable bag fitted with a #2 PME tube/tip, we used an icing dispenser pen. Outline the ribbon with the dark rose, allow the line to dry completely. Once the line is dry fill a coat of light pink, I like to use a knitting needle dedicated to royal icing only, and Sydney likes to use the opposite end of a paint brush, also dedicated to royal icing. Allow to dry for several hours to over night.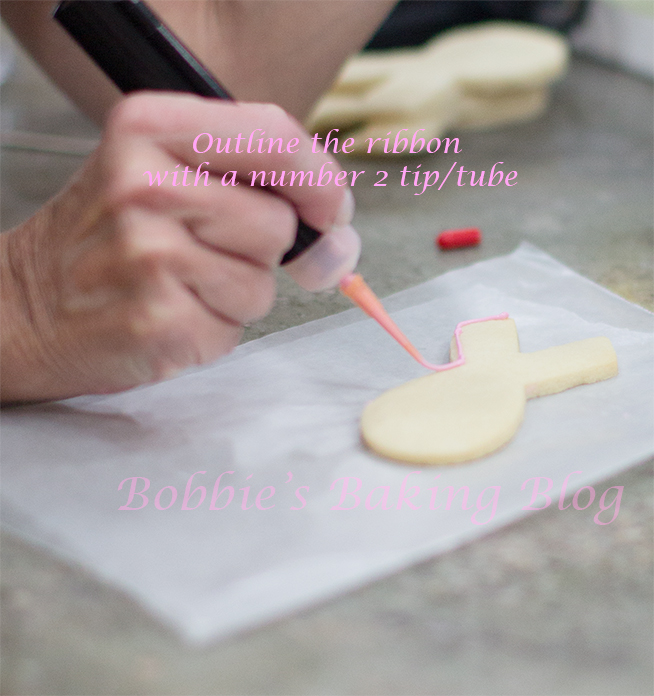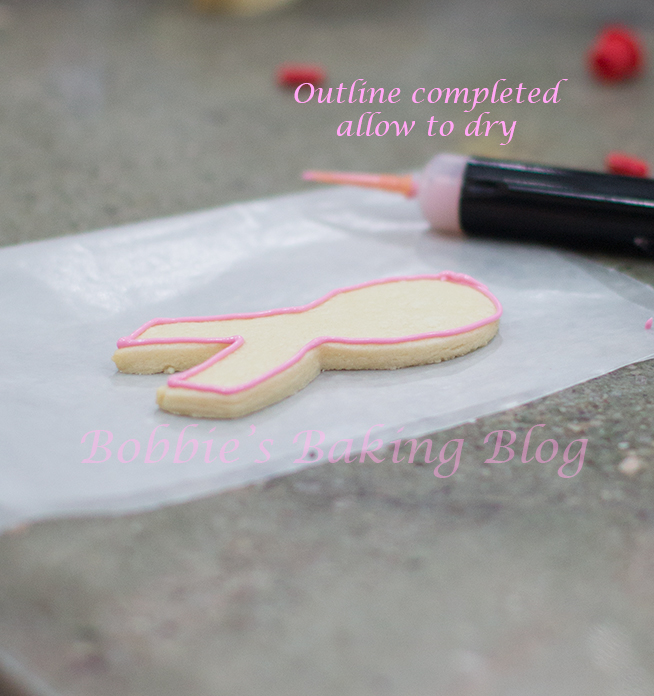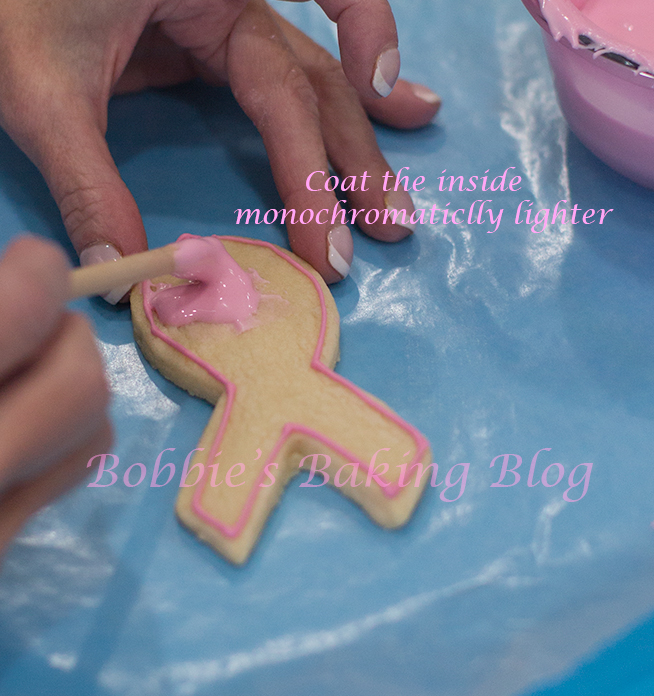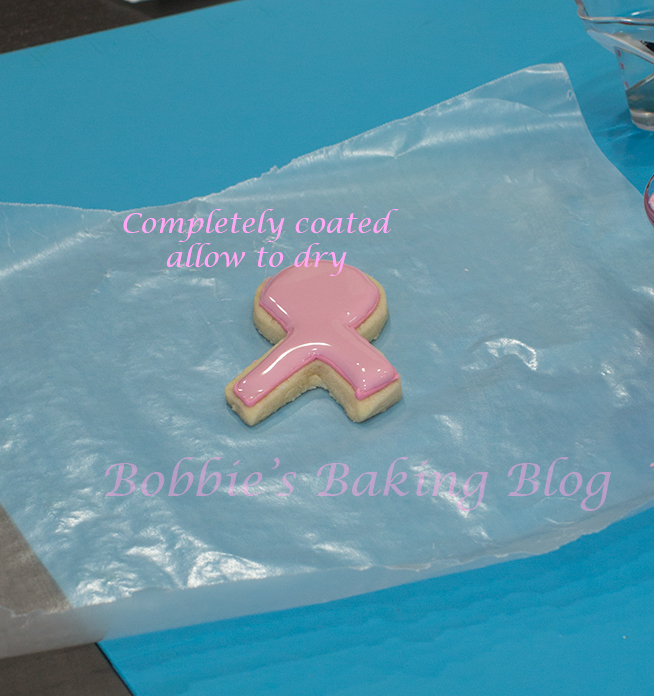 Once the inside coat was dry we beaded the edge of the cookie in a darker rose color to match the outline. Either use a paper cone method, a fitted disposable bags fitted with # 1.5 PME tube/tip, or an icing dispensing pen. Sydney and I prefer the cone method or the machine. Begin to bead, equal spaced beads, around the ribbon. When we both had finished beading the Ribbons for Hope cookies Sydney noticed something was missing, the cookies did not resemble the ribbon adorning the states. She realized we needed a hole in the loop section of the ribbon. Since trying to cut the correct shape out of the cookies would cause them to crack, I thought we could outline the shape and fill the section with white royal icing.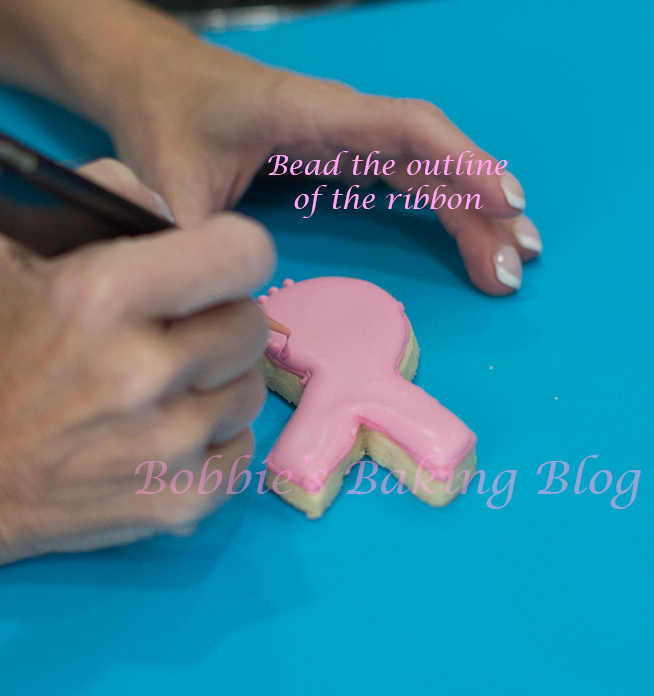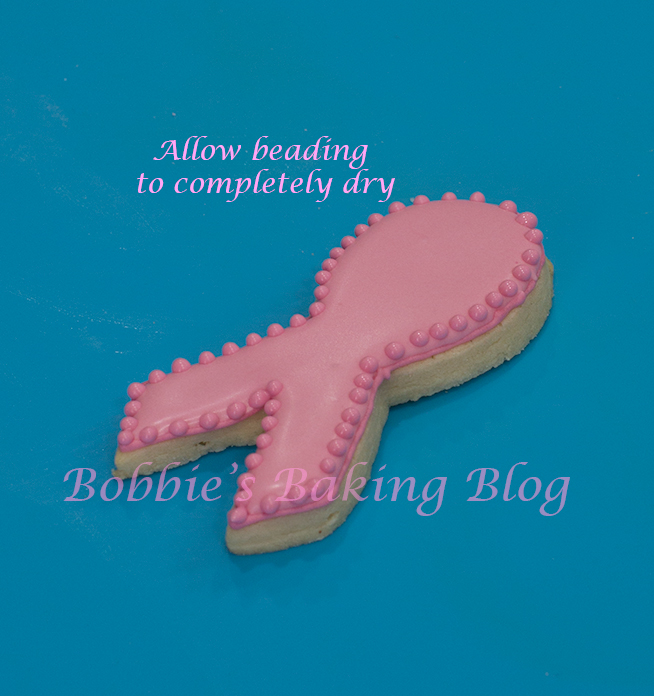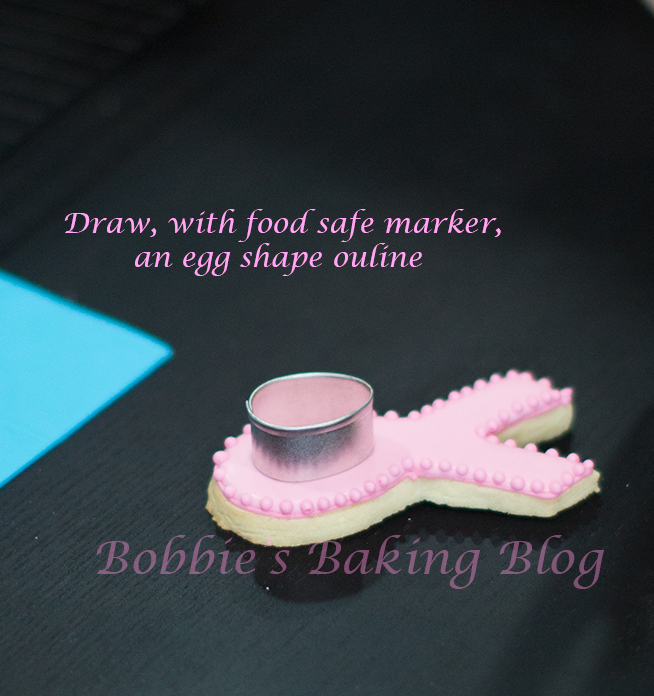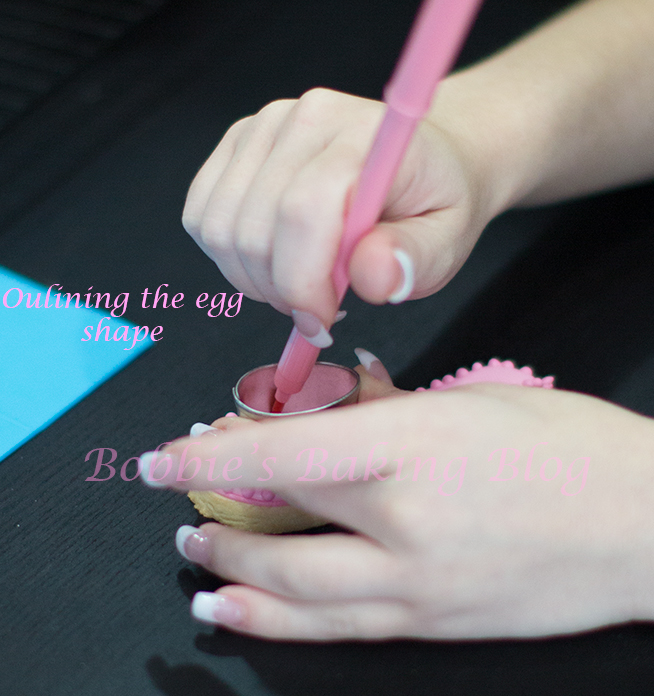 I was uncomfortable free handing the window, instead I took a mini Easter egg cutter and we traced (with a food safe marker) the egg shape, outlined the marked area with the darker rose royal icing,and created the two lines to give the illusion the ribbon was overlapping. Once the outline had dried we beaded the lines to match, and than filled the egg shape with white royal icing. To give the ribbons an elegant look we  petal dusted the center in pearl and the inner ribbon with fairy dust.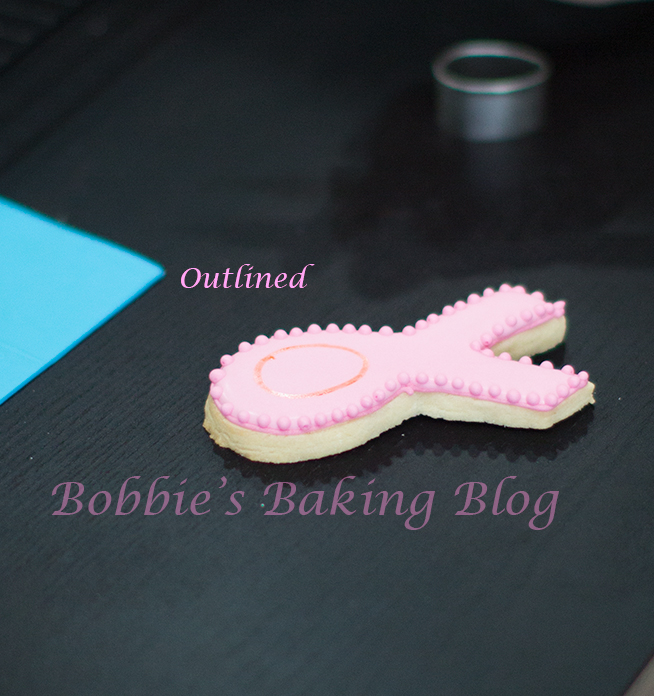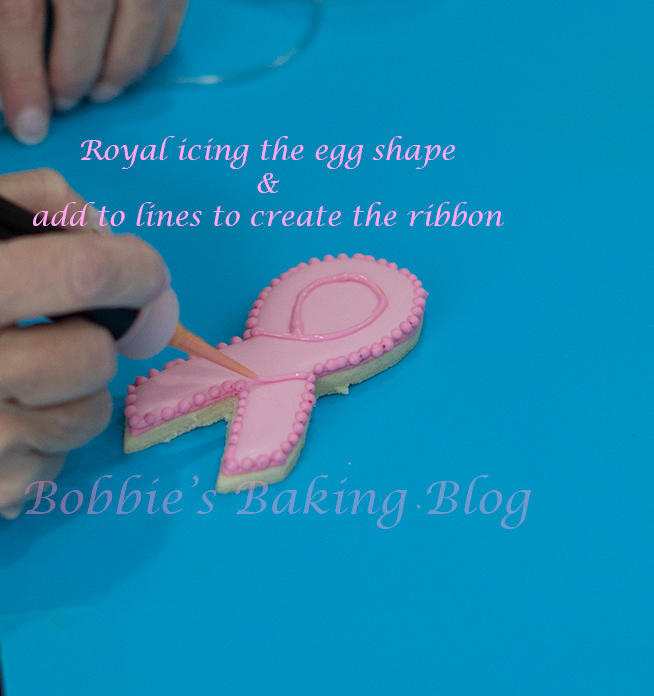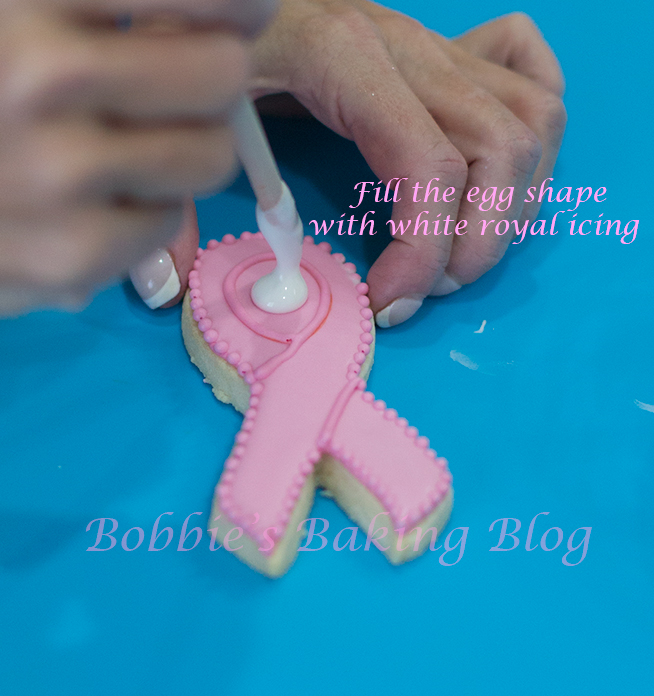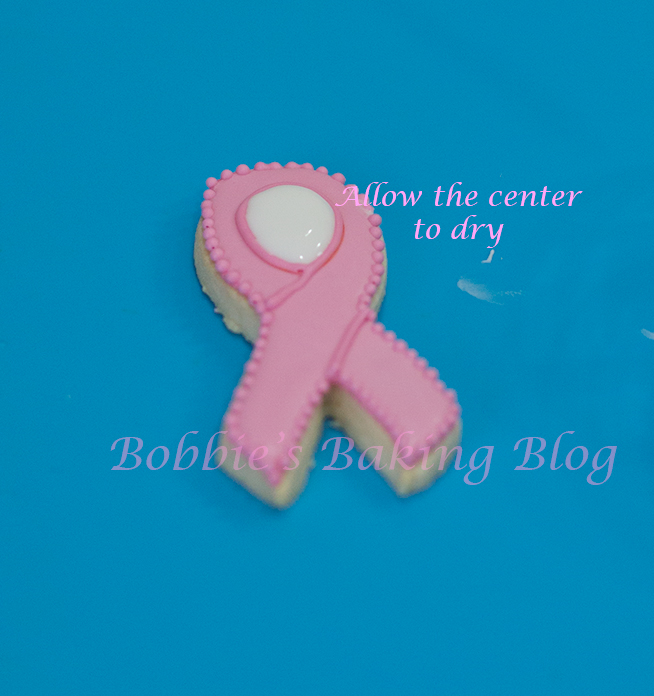 Creating Ribbons for Hope with Sydney was a wonderful mother/daughter experience, Sydney had fears and concerns she needed to vocalize and I had the opportunity to seriously explain why self checking is an imperative procedure. I had an aha moment, although Sydney and I can opening discuss anything not all mother-daughters can. It is an advantage to talk openly when you are working together; some of the awkwardness is eliminated.
Enjoy Ribbons of Hope!