Anyone who has children is familiar with the book "If You Give a Mouse a Cookie" well DF, my husband is a mirror of that little mouse when it comes to chocolate cookies. His absolute favorite cookie is a soft triple chocolate chip cookie, to cut some of the chocolate I add macadamia nuts and ivory chunks. Sydney caught him on Saturday having quite a few for breakfast; she tried to explain nutritionally triple chocolate chunk cookies might not be the best choice. I was around the corner and busted out laughing, my almost 20 year old daughter is expelling to her father how to have a well balanced breakfast. In the end he finished his cookies and added a banana to appease her.
Originally Sydney and I started making the cookies for DF and he took a few to work, now they have turned into an addiction for anyone who loves chocolate. They are one of the most popular cookies we bake and we would relish sharing the recipe.
Triple Chocolate Chunk Macadamia Cookies:
236 grams, 2 -1/4-cups all-purpose flour, plus ¼ for chip or chunks
63 grams/ ¾-cup cocoa powder
5 grams/1 1/4-teaspoon baking soda
1-teaspoon salt
227 grams, 1-cup (2 sticks) butter, cool, but not cold
196 grams, 1-cup firmly packed brown sugar
200 grams, 1-cup sugar
½-teaspoon vanilla
¾-teaspoon almond extract
1 vanilla bean, scraped for seeds
2- large eggs, about 68 grams
210 grams, 1¼-cups bittersweet chocolate chunks
105 grams/ 3/4-cup semisweet chocolate chunks
212 grams, 1¼-cups white chocolate chunks or semi sweet
126 grams/1-cup macadamia nuts
Preheat the oven to 180 degrees C/ 350 degrees F. Line  4 jelly pans with silpats.
Prepare your mise en place.
In a medium bowl whisk together the flours, baking soda, cocoa powder, salt and set aside.
In the bowl of a standing mixer fitted with the paddle attachment, add both sugars and the butter, beat until combined.  Then beat for a few minutes, until the mixture is light and creamy. Scrape down the sides of the bowl. Add the eggs, one at a time with vanilla and almond extracts and continue beating until smooth scrape down the sides of the bowl if necessary.
 Reduce the mixer on the lowest speed and add the flour mixture to the wet mixture till combined.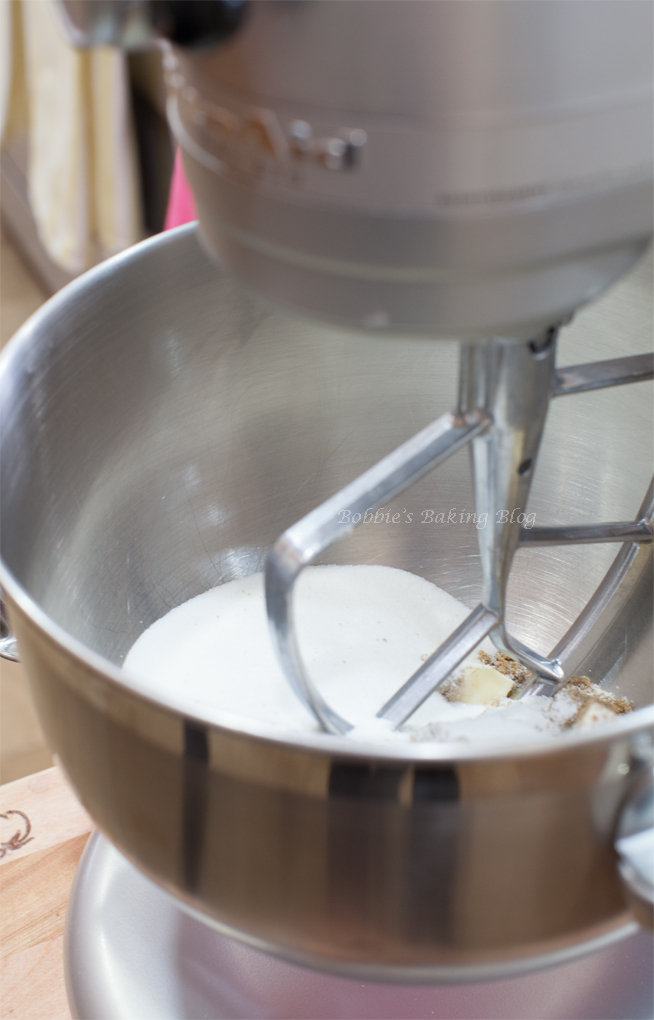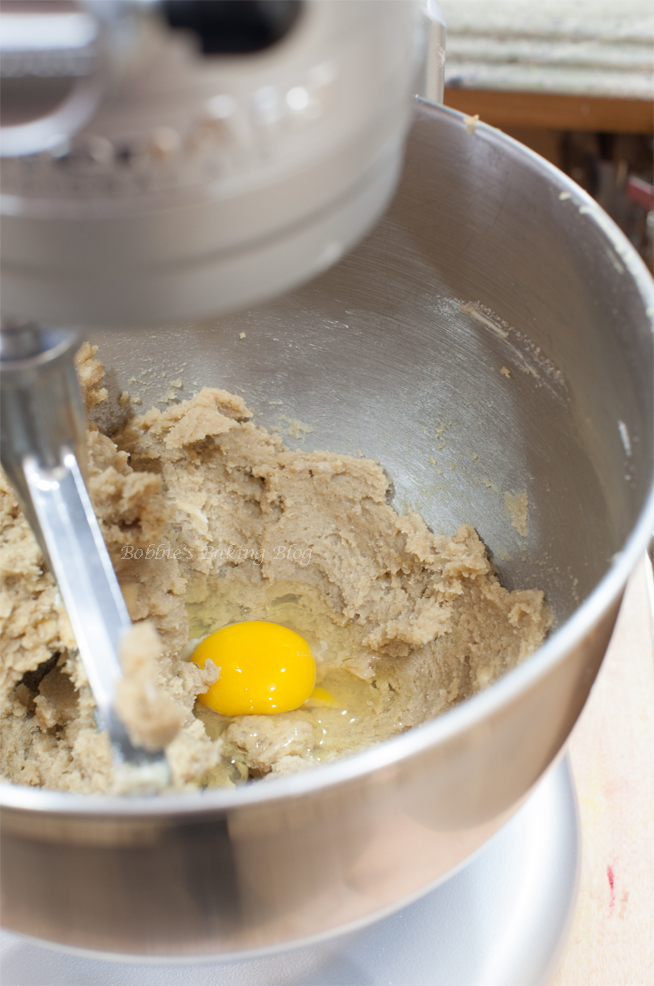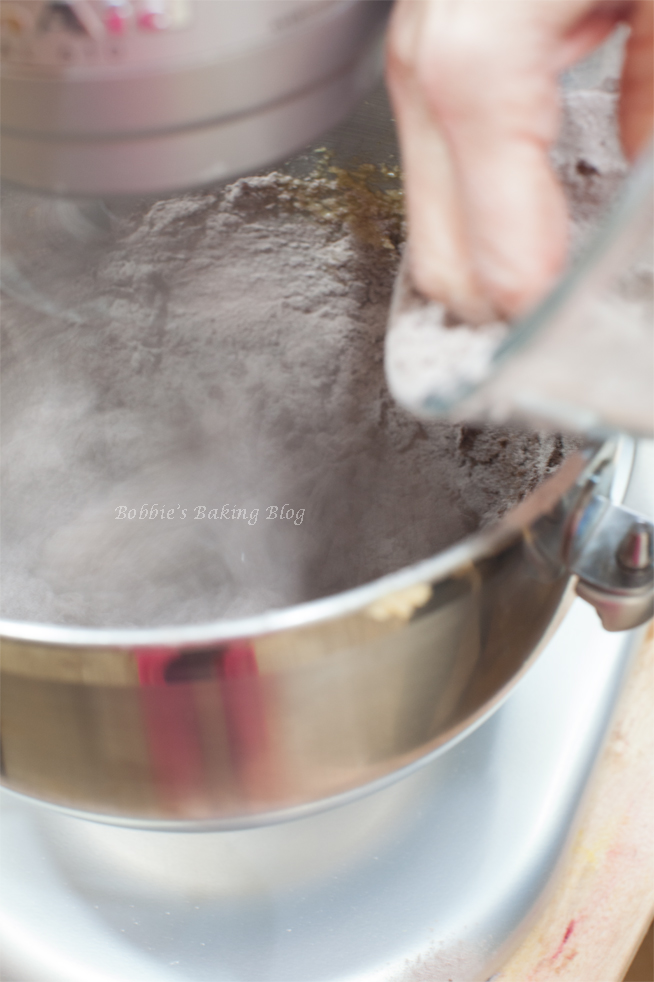 Remove from the mixer and fold any flour left at the bottom of the bowl. Fold the bittersweet chocolate chunks, semisweet chocolate chunks, white and chocolate chunks, and macadamia nuts with about 2-tablespoons of flour into the cookie batter. Place the batter in the refrigerator for at least 30 minutes up to 24 hours.
Using two tablespoons or a small ice cream scoop, drop the dough onto the prepared cookie sheets at least 2 inches apart.
Bake for about 8 to 12 minutes or until the edges start to brown and you begin to smell the heavenly cookies.. (Watch carefully it can be difficult to tell when cookies are already dark.)
 Remove from the oven and cool the cookies on the baking sheets for 10 minutes then transfer them to wire racks to cool completely.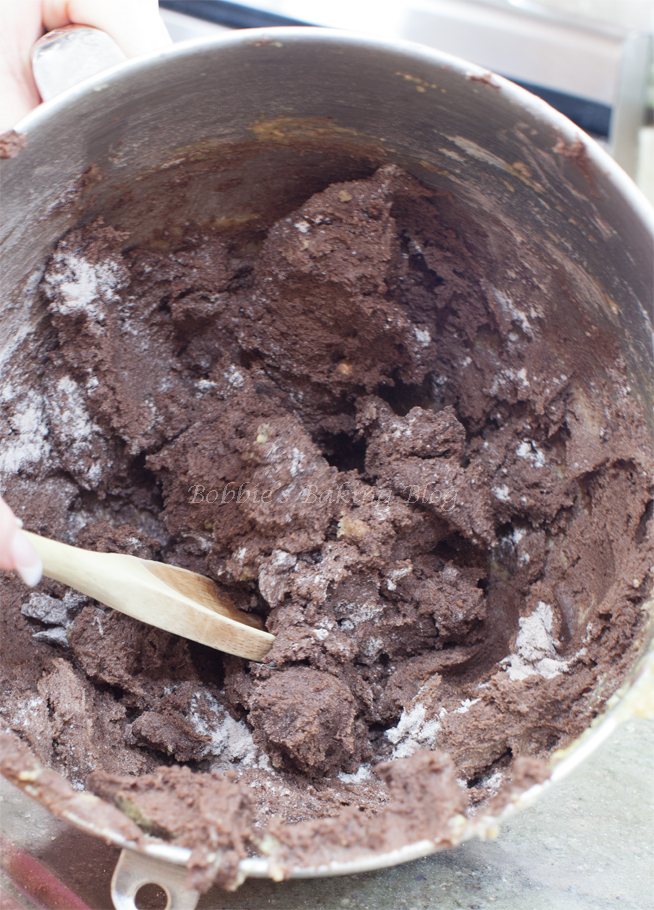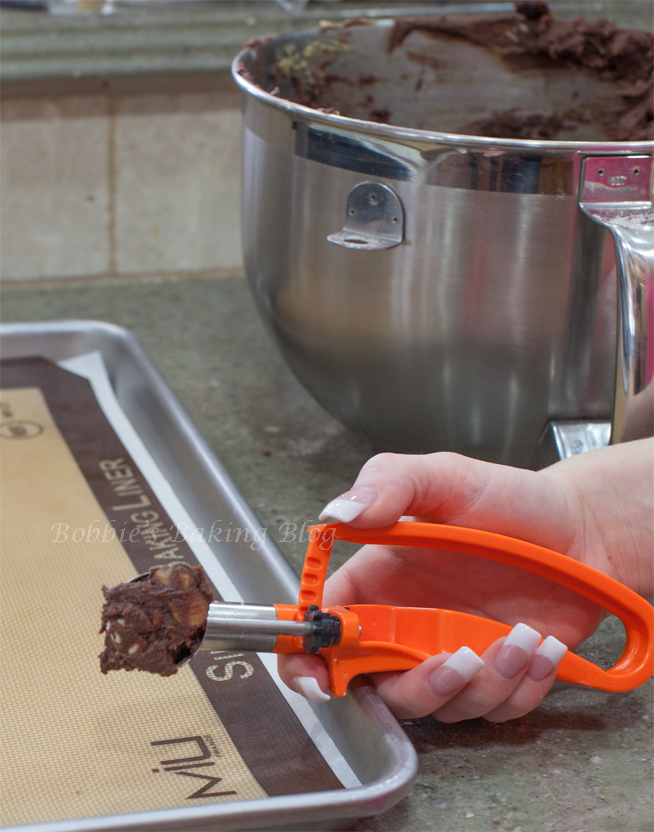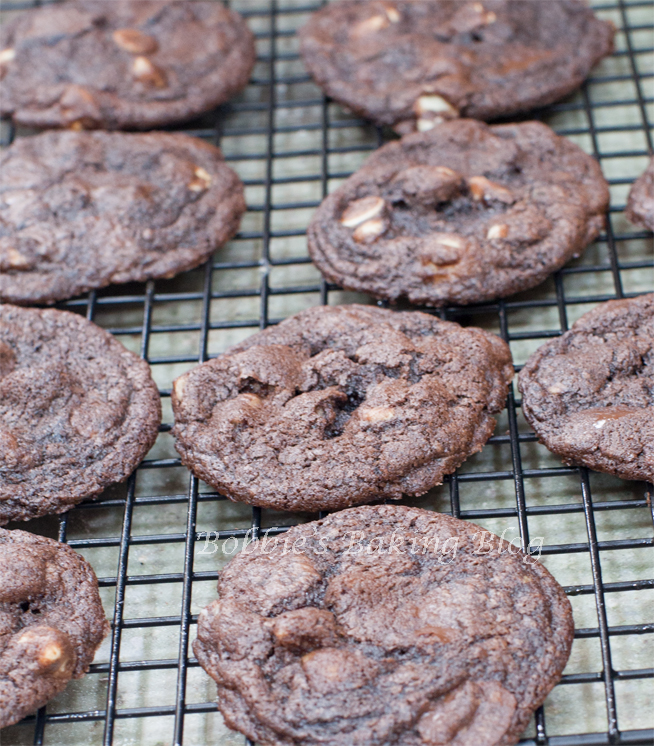 If you prefer Double Chocolate Macadamia
 Enjoy!